KC Safety Certification
Outline
Safety Certification
In order to prevent safety accidents caused by fire or electric shock caused by electrical appliances, the manufacturer of the product subject to safety certification (including those manufactured abroad and exported to the Republic of Korea) or importer shall obtain safety certification from the safety certification authority for each model of the product subject to safety certification (domestic manufacture), and import product (import product) in accordance with Article 5 of the Electrical Appliances Safety Management Act.

This procedure verifies the safety of products before market distribution by testing products that are subject to safety certification in accordance with safety standards and by examining factories to see if the quality of products subject to certification can be maintained continuously.

Factory Assessment The manufacturing, management, shipment, and maintenance capabilities of the plant that produces the products subject to safety certification are checked for safety, and regular inspections are conducted during production or distribution of the products that have been certified for safety.
Initial Factory Assessment (1) Checking whether the manufacturer of electrical appliances and the manufacturing plant are true or not
(2) Checking compliance with testing, inspection equipment, and quality systems

Regular Factory Assessment (1) Checking whether the manufacturing plant in the safety certificate is producing the product
(2) Check whether the same parts are used as the safety management list attached to the safety certificate.
(3) Checking compliance with safety standards and safety certification details of products that have received safety certification
※ Regular inspection is a follow-up management system that checks whether a product with safety certification is maintained continuously.
The manufacturer shall conduct a self-inspection and prepare and keep the records. (Manufacturer pays for regular factory inspection)
Safety check
The safety confirmation system was introduced to apply safety management procedures differently according to the level of hazards in consideration of environmental changes such as the increase in the supply of new products and the need for deregulation of companies due to the development of the electric and electronic industries.
Product subject to safety verification, implemented from January 1, 2009, shall be exempted from factory review and regular inspection procedures applied to existing products subject to safety certification.
The manufacturer or importer of the product subject to safety verification receives safety verification tests from the safety verification testing agency for each model, and the product subject to safety verification meets the safety standards.
After checking it, report it to the relevant certification authority.
Suppliers of conformity
The manufacturer or importer of the electrical equipment subject to supplier compliance shall conduct a product test for each model of the electrical equipment or request a third party to verify that the electrical equipment meets the safety standards.
Pursuant to Article 14-3 (3) of the Act, the manufacturer or importer of electrical appliances subject to supplier compliance shall keep the following documents for 5 years from the date of final manufacture of the relevant electrical appliances
Applied Product
Electrical Appliances Subject to Safety Certification
Classification
Equipment
A. Wires and power cords
Wires, Cables, and Cordials
B. Switch for electrical equipment
1) Switch
2) Electronic switching (referring to the rated current of 300A or less)
NOTE) Except for special structures attached to machinery and equipment and explosion proof type.
C. Power Capacitor and Power Filter
Capacitor and Power filter
NOTE) Only 100 Hz or less is applicable.
D. Electrical installation accessories and connecting parts
Connection airflow for electrical equipment (including power distributor)
Interconnection coupler
Plugs and outlets
Keibeullil
Remark) Exclude explosion proof type.
E. Electrical equipment protection.
1) Fuse, temperature fuse
2) Breaker
F. Insulation transformer
transformer and voltage regulator
NOTE) Only those with a rated capacity of 5kVA or less, except those with special structures attached to machinery and equipment.
F. Insulation transformer
1) Electric vacuum cleaner
2) Electric irons and electric presses
3) Kitchen heater
4) Electric washing machine and dehydrator
5) Hair management machine
6) Kitchen electric equipment (<unk>) using AC power
7) Electric liquid heater
8) Electric blankets, mats, and electric beds
9) Electric steamer using AC power, foot warmer using AC power
10) Electric water heater
11) Electric Refrigeration and Refrigeration Equipment
12) Microwave (referring to using frequencies from 300 MHz to 30 GHz)
13) Electric charger
14) Electric dryer (referring to drying hands, feet, clothing, agricultural products, marine products, etc.)
15) Electric heater
16) Electric Massager
17) Air-conditioner
18) Blast insecticide using AC power
19) Fan, Range Hood
20) Electric devices for toilets
21) Humidifier
22) Other devices similar to devices from 1) to 21).
NOTE) Only those with a rated input of 10 kW or less, except those with explosion proof type.
H. Electric tool.
Power tools that use AC power
I. Audio and Video applications
No Target
J. Information, communication, and office equipment
1) DC power devices (including those used for direct current power units and cell phone battery chargers in each category, and rated capacity is less than 1 kVA)
2) Short-cell [limited to a short-term battery (lithium meter) with a maximum charging voltage of 4.4V or higher, with an energy density of 700Wh/L or more applied to smartphones and laptop computers (including tablet PCs)]
3) Other devices similar to those of 1) and 2)
NOTE) Except for special structures attached to machinery and apparatus.
K. Lighting Device
1) Lamp holder
2) General lighting apparatus
3) Stabilizer and lamp control system
4) Stabilizer built-in lamp
L. Electrical storage (Electric Charger) components
Direct current power device connection/use (electric charger), lithium secondary circuit battery
Electrical Appliances Subject to Safety Check
Classification
Equipment
A. Switch for electrical equipment
1) Thermostat
2) Over-temperature control system
3) Automatic pressure switch
4) Timer and time position
5) Electric drive motor
6) Maneuver relay
7) Energy Regulator
B. Electrical equipment
1) Fruit peeler
2)Electric melting machine
3) Cutting-out devices
4) Electric chair and electric bed
5) Compressor
6) Electric hot water mat
7) Oral cleaner
8) Eliminate pests
9) Electrostatic collector
10) Service equipment
11) Electric Air Curtain
12) Fan Coil Unit
13) Game equipment
14) dishwasher and dish dryer
15) Electric Fumigation Steam
16) Water Freeze Protector
17) Oxygen ion generator
18) Electric water purifier
19) Electric Washing Machine
20) Electric fitness equipment
21) Electric Vehicle
22) Charger
23) Energy Storage Unit
24) Domestic electric sewing machine
25) Sauna machine
26) Coronary and pet electrical appliances
27) Blast generator
28) Air purifier with AC power
29) Electrical sprayer
30) Washing and packing apparatus
31) Kitchen power unit using direct current power
32) Electric steamer/heater using direct current power
33) Blank sprayer using direct current power
34) vending machine
35) Electrostatic sterilizer
36) Dehumidifier
37) Food processor
38) Electric warmer and electric warmer
39) Fluid pump
40) Electric heater
41) Electric bath
C. Audio and Video applications
1) Television receiver
2) Disk Player
3) Audio System
4) Audio processor
5) Imaging processor
D. Information, communication, and office equipment
1) Monitor
2) Printer
3) Projector
4) Document shredder
5) Piercing machine
6) Copy machine
7) Uninterruptible power
8) Power supply unit
9) For computers
10) Power supply system
11) Digital TV (referring to smart TV, IPTV, etc.)
12) Coating machine
13) Laptop computer
14) Battery (charge only)
E. Lighting Device
1) incandescent light bulb
2) Discharge lamp
3) Chain lighting fixture
4) Chargeable portable electric lamp
5) Flood light fixture (limited to 150W or less per lamp due to a structure without a driving device)
6) Halogen light fixture (limited to less than 150W per lamp in a structure without a driving device)
7) LED lamp (module)
8) Halogen bulb (limited to 250W or less) (<unk> including a collar lamp)
Electrical Appliances subject to supplier suitability check
Detailed items for electrical appliances subject to supplier suitability check shall be as specified in the attached Table below. Electrical appliances used in power sources of less than 30V AC and 42V DC are excluded from electrical appliances subject to safety management. However, even if it is used in 30V or less of AC power and 42V or less of DC power, the electrical appliances designated separately from the comments in the attached Table shall be included in the electrical appliances subject to safety management.
Classification
Equipment
Electrical equipment
1) Potato deodorizer
2) Electric condenser
3) Electric bread cutter
4) Pet Bath
5) Electric liquor aging machine
6) Electric clock
7) Infrared Ultraviolet Radiation Skin Care Unit
8) Electric Fountain
9) Projector
10) milking machine
11) Lint remover
12) Sprout and bean sprout cultivator
13) Electric operating door lock
14) Direct current power air purifier
15) Electric roll screen
Electrically-drive tool
1) Power tools for charging using direct current power
Audio Video Application Device
1) Video camera
2) Tuner
3) Radio receiver
4) Receiver
5) Voice recorder
6) Voice player
7) Satellite Receiver
8) Video Phone
9) Sound quality regulator
10) Signal converter
11) Compressor
12) Gate
13) Electronic clock
14) CCTV camera
15) Imaging Receiver and Transducer
16) Video Recording System
17) A/V signal receiver
18) CATV receiver
19) Turntable
20) Modulator
21) Audio and Video Learner
22) Amplifier
23) Editor
24) Voice and Image Distributor
25) Video Transmitter
26) Electronic instruments, etc.
Information Office Equipment
1) Scanner
2) Bill counting machine
3) Money register
4) Language trainer
5) Electronic blackboard and board
6) Copper counter
7) Electric typewriter
8) Electromagnetic
9) Transportation Card Charger
10) Number ticket issuing machine
11) Radio transmission for radio stations (including mobile, fixed and amateur radio national equipment)
12) Voice, sound, and other signal-transmission radio devices
13) Internet Multimedia Broadcasting Subscriber Terminal Equipment
14) Terminal equipment for subscribers of comprehensive wired broadcasting service
15) Digital remodulation frequency converter
16) A/D and D/A Signal Converter
17) Set-top box
18) Cutting machine
19) Physical burners
20) stereoscopic imaging equipment, etc.
21) Monitor
22) Printer
23) Projectors: 30V or less and 42V or less.
24) Blast sterilizer: use only direct current of 42V or less, batteries and secondary batteries (chargeers) as power sources.
25) DC Power Kitchen Power Unit: DC 42V or less
26) Ozone water generating device: 30V or less alternating current, 42V or less.
Certification Procedure
Safety certification processing procedure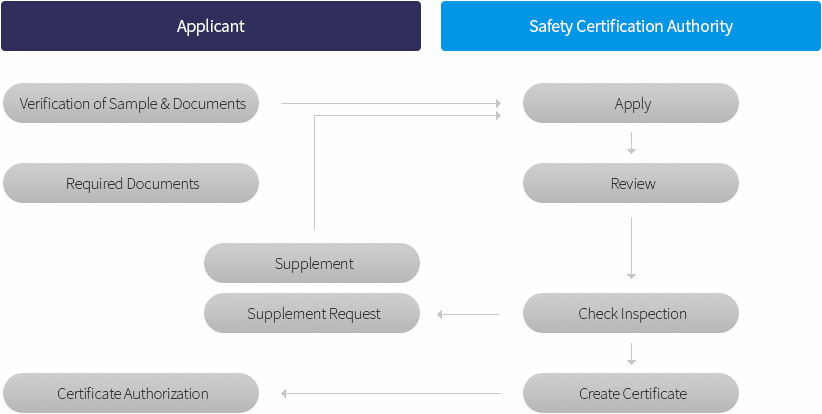 ※ Testing and evaluation using safety standards suitable for the relevant electrical equipment
Safety confirmation processing procedure

Supplier Suitability Check Processing Procedure

Applicant Manufacturer or importer of electrical appliances of items subject to supplier suitability verification
※ If a test report from a foreign testing agency replaces the supplier suitability test report, it shall be verified that the test institution or domestic testing agency complies with the safety standards.
Product Test (Enterprise-Source)
Completing the Supplier Suitability Check Report
Product Test (Enterprise-Source) - Reviewing the report and supplier suitability certificate
- Issuing a certificate of confirmation
※ If you want to change the confirmation certificate, you must submit an application for change of report to the management officer.
Comparison of procedures for safety certification and autonomous safety verification systems
Classification
Safety Certification
Voluntary safety system
Supplier Suitability Check System
Product Test
Safety test
○
○
○
Factory Check
Manufacturing or test equipment
○
No need to Check
No need to Check
Raw material & Process Inspection
○
No need to Check
No need to Check
Product Test
○
No need to Check
No need to Check
Certificate & Register
Issue Certification
Issue Declaration
Report confirmation
Regular post-management (product testing and process review)
○
No Regular Audit
No Regular Audit
To prepare for certification requirements
Required documents for safety certification (Basic)
Application for safety certification
Product documentation (including user manuals)
It includes the names of parts that have a direct impact on electrical safety, the names of manufacturers, models, ratings and derivative names.
Documents containing electrical characteristics, etc.
Statement of insulating materials (temperature properties, flame retardant properties)
Electrical circuit drawing
Documents proving that they are agents (where agents apply)
Required documents for safety certification (Basic)
Regulations for testing and inspection (import, intermediate, shipment, self-inspection) and related records
Retained inspection facility management register and calibration report
Regulations for Nonconforming Product Management and Related Records
Regulations for handling customer complaints and related records
Regulations for Internal Audit and Related Records
Required documents for safety certification (Basic)
Copy of business license
Product Manual (including photos)
Documents proving that the safety confirmation test result is an agent (if the agent reports)
Required documents for safety certification (Basic)
Indications including product manuals, cautions, or warning statements, etc.
(including picture. In principle, instructions for use should be written in Korean.)
Rated label
Electrical schematic
List of safety management components and materials
Specification for coil flow such as Transformers
Exempt from Certification Devices
Electrical appliances subject to safety certification, electrical appliances subject to safety check register, or electrical supplies subject to supplier compliance, etc. shall be as follows by receiving inspection or verification from safety certification agencies under Articles 13, 32 and 45 of the Enforcement Rules.
Classification
Requirements
Application for Exemption Confirmation
Research & Development
Cases of use in schools, research institutes, research institutes, etc.
Korea Institute of Product Safety Management
(1833-4010)
Exhibition Entries
Not for sale
Product Test for Safety Certification
In case of testing by a safety certification authority or a testing agency
Market research
Not intended for sale
Parts for Repair
In the case of importing parts within 2.5% of the imports of products subject to safety management for repair
Special construction equipment
In the event of a product manufactured by special design
Industrial
In the case of manufacturing and all enterprises as defined in the Korea Standard Industrial Classification, Notice of Statistics Korea
Import for Export purposes
In case of exporting imported products.
A Municipal Governor
Manufactured for export purposes
If you export the product
No separate exemption.
Individuals can be exempted from certification if they purchase one product by model directly from abroad for personal use (no separate exemption application is required).
Certification Marking Method
Safety certification, safety confirmation report, and indication of supplier suitability Electrical appliances subject to safety certification or safety verification shall be marked with a safety certification mark or a safety verification report on electrical appliances subject to safety certification or their packaging, as prescribed by the Regulations on marking.
Marking time
Domestic Manufactured Electrical Appliances: Before Forwarding
Imported Electrical Appliances: Customs War
Marking Content
Guidelines for the operation of the Safety Management Act on Electrical and Household Goods [Attachment 23] Other required marks (related to Article 57) 1. A mark for verification of suitability of suppliers of safety certification reports (indications shall be affixed so that they do not fall where they can be easily identified on the product or package, or marked by printing or imprinting, but shall be marked on the product in principle).
2. Safety verification report number
3. Product name and model name
4. Manufacturer's or importer's name (add manufacturer's country of manufacture only for foreign material manufacturers)
5. A mark to indicate the date of manufacture of the product (e.g., a date of manufacture, a lot number, or a mark to prove the manufacturer's date of manufacture, etc.)
6. Contact A/S (domestic contact with real A/S availability)
7. Indications stipulated in the individual electrical equipment safety standards
8. Warning statements or precautions
9. Rated voltage, rated frequency, and rated consumption power (simultaneously with the marking method in accordance with international standards)
10. Testing institution (in the case of a third party's requested test)
※ If the electrical equipment is smaller than 900 mm2 and it is difficult to mark the entire display, mark KC and mark the remaining marks not marked on the product.
Note
(1) The size of the shape shown can be adjusted flexibly according to the size of the product.
(2) Attach, print, or imprint the product or package so that it does not fall where it can be easily identified.
(3) In the case of wires
- For non-fluorinated wires, mark the surface of the wire in a way that does not easily erase every 1m or less. However, for other than iodine, safety certification numbers and rated voltages (excluding neon wires) may be considered when marking the safety certification and rated voltage on the label for each volume.
- Every volume should be labeled in a way that is not easily erased on the fluorine insulation front.
(4) In the case of bulbs, they shall be marked on each product in a way that does not easily erase where the surface is easy to see and where the surface of the package is easy to see. However, it is difficult to mark on the product among small-sized, decorative, and incandescent bulbs, and safety certification for packaging each product. Indications other than marks and safety certification numbers may be displayed in a place that is easy to see on the packaging surface, and product classification and regional classification may be excluded from the safety certification number if packaging is not done for each product.