Medical Device Certification
Outline
The term "medical device" means any of the following products, such as appliances, machinery, devices, materials, software, or similar products used exclusively or in combination with persons or animals:
Products used for the purpose of diagnosing, treating, reducing, treating, or preventing diseases
Products used for diagnosis, treatment, reduction, or correction of injuries or disabilities
Products used for inspection, replacement or modification of structures or functions
Products used to control pregnancy
※ Provided, That will and assistants shall be excluded from medicines and non-medical products under the Pharmaceutical Affairs Act, and from assistive devices for persons with disabilities under Article 65 of the Act on Welfare of Persons with Disabilities
Applied Product
Medical Device Act Items subject to medical device testing and inspection)
A group of medical device items according to the Medical Device Manufacturing and Quality Management Standards [Asterisk 3]
Certification Procedure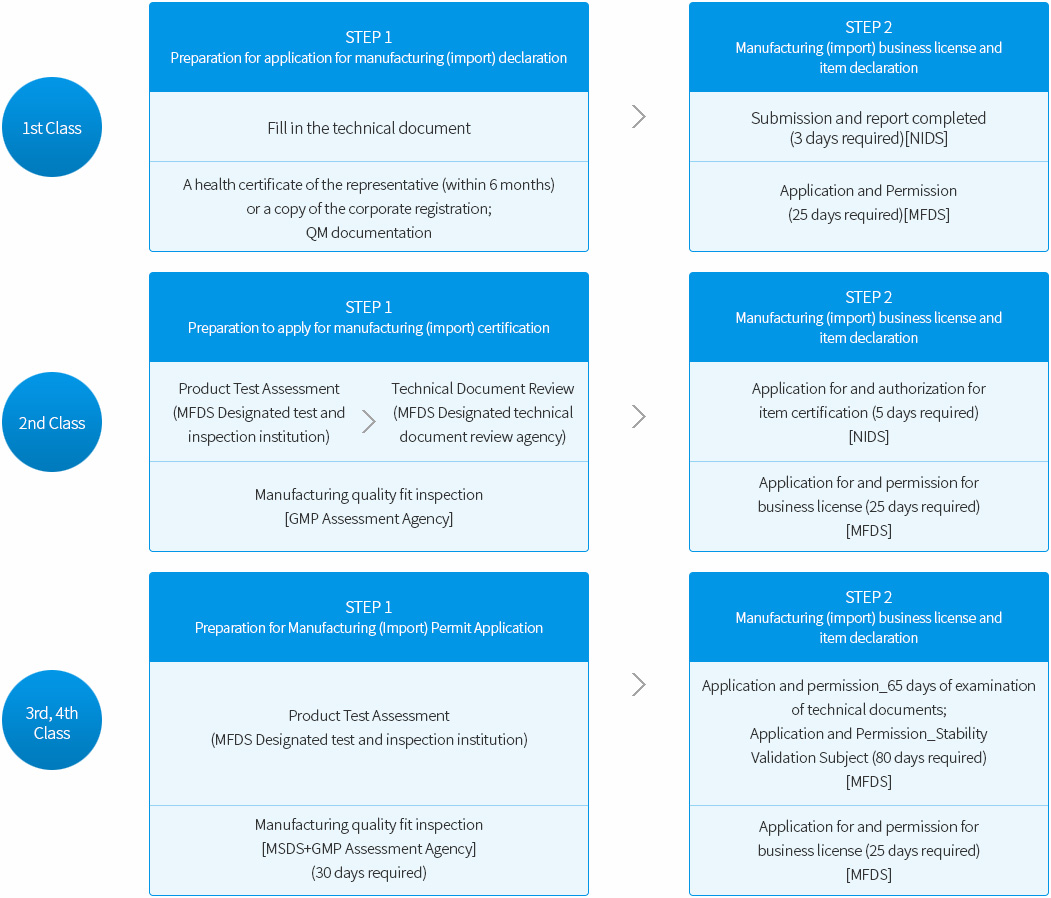 Certificate Preparation
1) Application form
2) Instructions & Labels
3) Test sample & rating specifications
4) Electrical circuit, parts layout, major parts list and certificate copy
5) Sample confirmation, standard customs clearance scheduled report, and certificate of import declaration
Certificate Exemption Device
A person who intends to request a review of which products fall under Article 2 (1) of the Act for medical device permission/certification/report/examination, etc. of medical devices shall prepare the following data and submit it to the head of the KFDA:
data on the purpose of use of the product
Data on the shape and structure of the product, raw materials, performance, method of use, etc
Other data on the principles, specifications, etc. of the product
The head of the Ministry of Food and Drug Safety shall examine whether the requested product complies with Article 2 (1) of the Act, falls under individual items under the Regulations on Medical Device Items and Classification and Designation, and notify the applicant of the results.